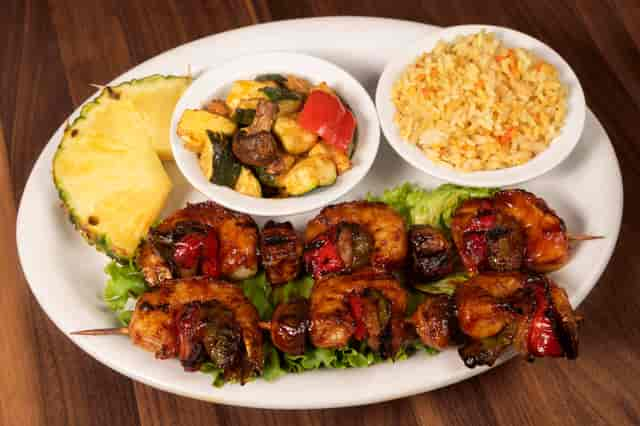 Dinner Banquets
Available Monday thru Thursday - Minimum 30 People - Ask for Weekend Availability
All prices include non-alcoholic beverages. Our private banquet room is decorated with colored napkins, placemats, helium balloons and a personalized sign to welcome your group. The room is equipped with a big screen TV, DVD, sound system and computer AV connectors.
Banquet Dinner Options:
All dinners include Corn bread, Honey Butter, Fruit, and Vegetables.
Please pre-choose any two of the following side dish options to accompany each dinner:
Barbecued Beans, Cole Slaw, Rice Pilaf, Garlic Mashed Potatoes, French Fries, Baked Potato, Potato Salad, Mac 'n Cheese or Mashed Sweet Potatoes. Add $1.99 for Green Salad.
Option l: The Famous BBQ Trio . . . . . $24.99/person
Guests choice of Baby Back Ribs, Slow Roasted BBQ Tri-Tip, BBQ Chicken (1/2 Chicken or Boneless Breast) or a combination of any three. Add salmon $1.00
Menu selections also available include: (call for pricing)
Lemon Garlic Chicken Breast with Mushrooms
New York Steak
BBQ Shrimp
Prime Rib
Filet Mignon
Beef Ribs

Option 2 . . . . . $26.99/person
Guests choice of Baby Back Ribs, Fresh Swordfish or Salmon, or Prime Rib.
NOTE: Other options are available, please ask us if you need any custom options with your banquet.
The Buffet:
Build your Own BBQ
Option #1: select 2 meats and 3 side dishes: $23.99/person
Option #2: select 3 meats and 3 side dishes: $25.99/person
Meat selections:
Baby Back Ribs
St. Louis Ribs
Barbecue Chicken
Boneless Barbecue Chicken Breasts
Louisiana Hot Sausages
Barbecue Beef Brisket
Slow Roasted BBQ Tri-Tip

Side Dish Selections:
Barbecue Baked Beans
Garlic Mashed Potatoes
Fresh Coleslaw
BBQ Chopped Salad
Rice Pilaf
Mac 'n Cheese
Potato Salad
Mashed Sweet Potatoes
Desserts:
Hershey Peanut Butter Ice Cream Pie, New York Style Cheesecake, Double Chocolate Cake.....$3.99/person (Other desserts available upon request.)
Cake Cutting:
$1.00/person
Appetizers:
A generous combination of your favorite appetizers (Choose any Three): Potato Skins, Deep Fried Mozzarella Cheese, Grilled Artichokes, Fried Zucchini, Buffalo Wings, Spinach Artichoke Dip, Louisiana Sausage Bites and The Famous Onion Brick.....$3.49/person
Various alcohol options available. Please ask management.
Prices do not include tax and gratuity. Prices subject to change without notice.