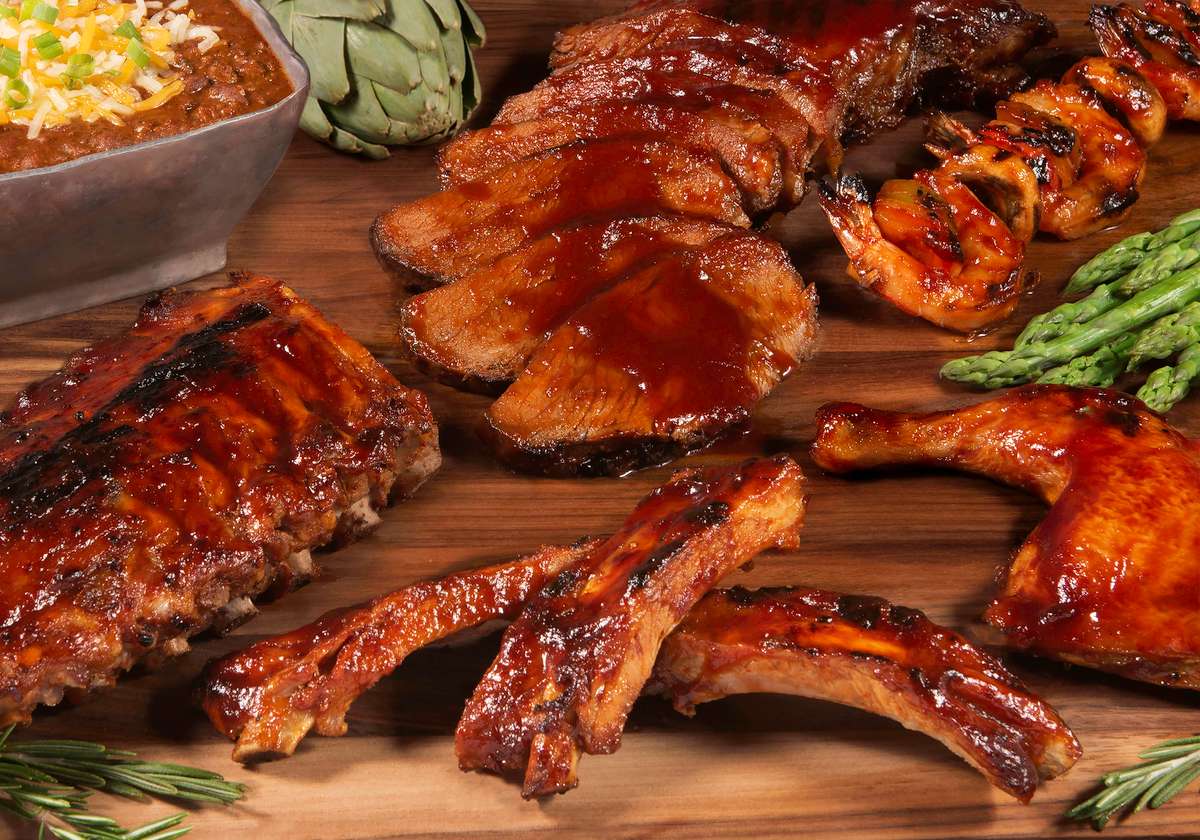 Party Packs, Trays & Buckets
Become a VIP
Receive updates on special events, new menu items, menu reviews, and more!
Party Packs, Trays & Buckets
Party Packs
Include: Baby Back Ribs, BBQed Chicken, Louisiana Hot Sausage, Sliced Beef Brisket, Cornbread and 2 Sides
Hog Pack (Feeds 9-13) $140
Includes: 24-28 Ribs, 12 pcs. Chicken, 4 Sausages (cut in thirds), 1 1/2 lbs. Brisket, 12 pcs. Cornbread, and 3 pints each of two sides
Pig Pack (Feeds 6-9) $125
Includes: 20-24 Ribs, 8 pcs. Chicken, 3 Sausages (cut in thirds), 1 lb. Brisket, 8 pcs. Cornbread, and 1 quart each of two sides
Piglet Pack (Feeds 3-4) $67
Includes: 10 Ribs, 4 pcs. Chicken, 2 Sausages (cut in thirds), 1/2 lb of Brisket, 4 pcs Cornbread, and 1 pint each of two sides
Add 1/2 tray of Green Salad to your Party Pack (Choice of Dressing) $19
Sides
Quart (32 oz.) $10
Pint (16 oz.) $5.50
Buckets
Includes: 4 Pieces of Cornbread and Honey Butter
Trays
Full Trays Include 16 pcs Cornbread
Half Trays Include 8 pcs Cornbread
Salads
Choice of Dressing: Ranch, Caesar, Raspberry Vinaigrette, Honey Mustard, Bleu Cheese, Thousand Island, Italian, BBQ Ranch, Buffalo Ranch (All Gluten-Free)

Add Protein to BBQ Chopped Southwest, BBQ Bleu Wedge, 2nd Street Spinach, or Kale Quinoa Salads:
Chicken $5
Tri-Tip $6
Shrimp (5 pcs) $9
Salmon (8 oz) $9
2nd Street Spinach Salad
$14
Organic Baby Spinach, Bleu Cheese Crumbles, Mandarin Oranges, Diced Green Apple, Dried Cherries, Chopped Green Onion, Candied Pecans and Cornbread Croutons Tossed with our House-Made Sweet & Sour Dressing. Gluten-Free with Modifications, Ask Your Server.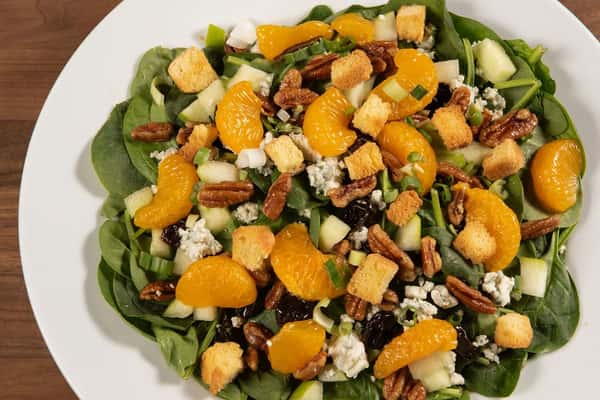 Burgers
USDA Choice Ground Beef or Veggie Patty
Choice of Sesame, Brioche, or Gluten-Free Bun
Choice of Two Sides
Build Your Own 1/2 Pound Burger
$13
Includes: Lettuce, Tomato, Pickle
Add at No Charge: BBQ Sauce, Ketchup, Mustard, Thousand Island Dressing
Add Bacon or Cheese (Cheddar, Pepperjack, Shredded Cheddar/Jack, Blue Cheese)
+$0.99
Add Cheddar Cheese
+$1
Add Avocado
+$1.99
Add Sautéed Mushrooms, Onion Straws, or Grilled Onions
+$1.49
Add Louisiana Hot Sausage on Top
+$3.49
Dinners
Served with Cornbread and Choice of Three Sides
Substitute One Side for a House Dinner Salad $5
Add w/Dinner: House Dinner Salad, Small Caesar Salad, Louisiana Hot Sausage $5.50
SIDES: BBQ Beans, Garlic Mashed Potatoes, Baked Potato, Mashed Sweet Potatoes, Rice Pilaf, Macaroni & Cheese, Roasted Vegetables, Coleslaw, Potato Salad (Gluten-Free Versions of Rice Pilaf, & Cornbread are available)