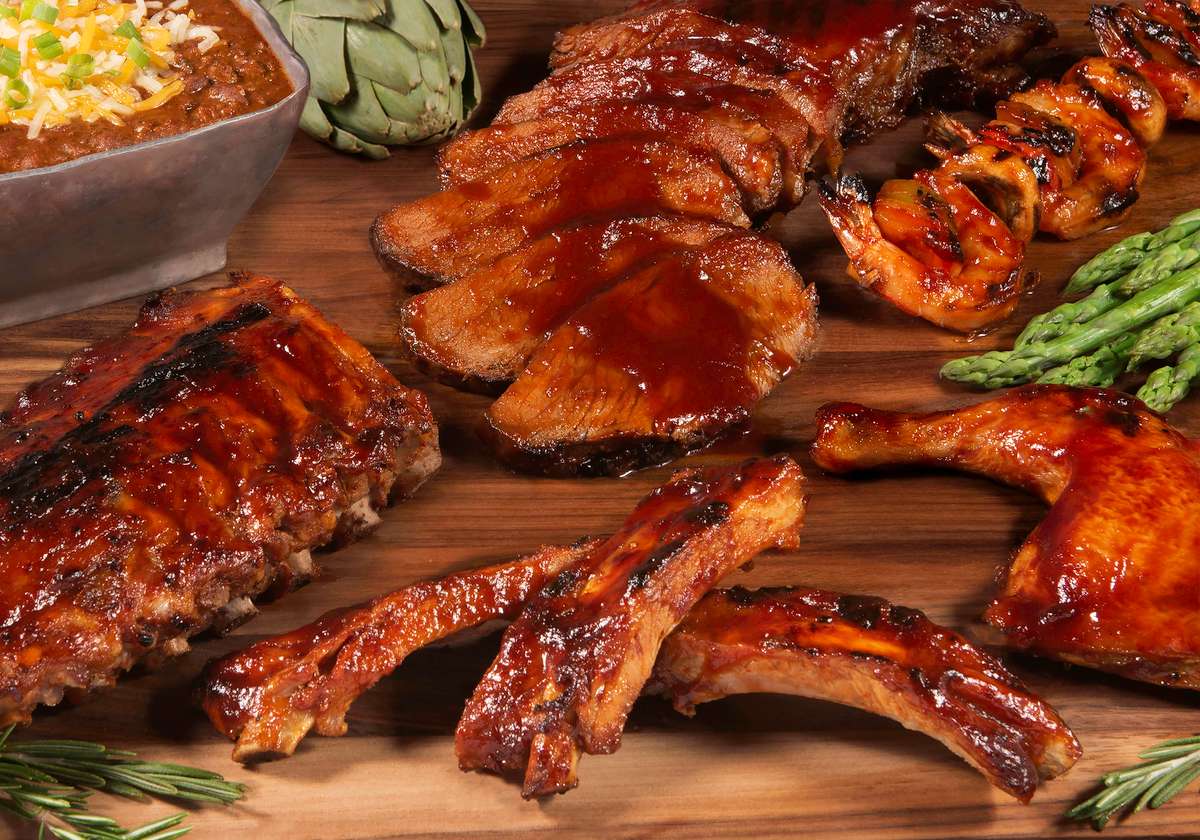 Sandwich Bar Catering
Become a VIP
Be the first to receive updates on exclusive events, secret menus, special offers/discounts, loyalty rewards & more!
Sandwich Bar Catering
Rib Company Sandwich Bar
Rib Company's delicious meats and sides are perfect for an inexpensive company lunch or casual function. Choose from the following meats and sides. All Sandwich Bars include: plates, napkins, forks, knives, mini washcloths, signature bibs, disposable tablecloths, serving utensils, and to-go containers for leftovers. Catered Sandwich Bars include: Delivery of all items; set up of buffet with chafing dishes, silverware, plates; clearing of all Rib Company items; and clean up of kitchen facilities (if applicable).
Options / Pricing
Options:
A - Choose 1 meat and 2 sides
B - Choose 2 meats and 2 sides
C - Choose 3 meats and 3 sides
D - Choose all 4 meats with 4 sides
Basic Prices:
# of Guests | Pick Up Price | Delivery Fee* | Catered Price
40+ | A - $15/per, B - $16/per, C - $17/per, D $18/per | +$75.00 | A - $18/per, B - $19/per, C - $20/per, D - $21/per
100+ | A - $14/per, B - $15/per, C - $16/per, D - $17/per | $50.00 | A $17/per, B - $18/per, C - $19/per, D - $20/per
250+ | A - $13/per, B - $14/per, C - $15/per, D - $16/per | no charge | A - $16/per, B - $17/per, C - $18, D - $19/per
*within 10 miles
Drinks
Assorted soft drinks and bottled water at $1.50/one per person or $2.50/two per person.



Stainless Steel Chafing Dish Rental (must be returned)
$15 per dish and includes one 2-hour sterno


Disposable Wire Chafing Dish Purchase (yours to keep after event)
$10 per dish and includes water pan and one 2-hour sterno
Kids under 10 years of age are 1/2 price!

**All Events held at Long Beach State University (CSULB) are subject to a 13% surcharge on all billed items due to commissions paid by Rib Co. to 49er Shops.**